11 best hotels in Wangjing Science Park & 798 Art Zone
Our top picks
Lowest price first
Nearest to
Best reviewed
4-star hotels in Wangjing Science Park & 798 Art Zone
---
A little far from any subway. Definitely a problem in a rain storm (such as the 61-year flood day on 7/21/12), as it is very difficult to return to the hotel from downtown Beijing. However, for work in or near Wangjing, this is a great location, with most all of the services you could want at the hotel or the nearby 方恒中心 shopping center.
---
this is my to-go hotel if i'm visiting wangjing. there's a starbucks outlet at the shopping corner of the hotel. post office if you need to mail stuffs home. bank of china if you need to change money. overall, central location for me. tip: go eat at haidilao, available in many parts of beijing. it's good steamboat! yum!
---
Very nice hotel. The room is comfortable. I enjoyed the breakfast, a lot of choices. The staffs are very friendly. Downstairs are shopping mall and supper market. Wang Jing Xiao Jie is just 2-minute walking distance. There are many small restaurants for food.
---
For the kitchen, a few more supplies should be included: dishwashing soap or dishwashing soap for the dishwasher, a wash cloth ( we used bathroom towels) salt, pepper, larger bowls and cups, especially for westerners, I understand the majority of your clients would be Chinese.
---
I stayed there for an art opening at 798. The location is very convenient, room was very clean, and the staff was helpful.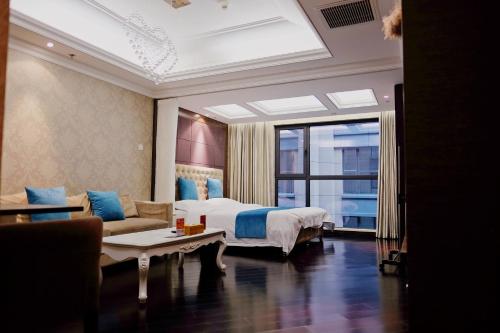 ---
There is no hotel. I didn't find this place , bec it falls location ' plse refund back money
---
5-star hotels in Wangjing Science Park & 798 Art Zone
---
Poor service! The hotel staff not helpful and friendly and poor English. Can't believe I was only given a paper cup,plastic bowl and wood chopsticks when eating at the hotel cafe! Nothing to eat and buy around the hotel, even if you want to buy a bottle of water, you need to walk half of an hour! I will never stay at this hotel again and will not recommend to my friend...
---
Was there for a vacation alone for the 798 Art zone nearby. Everything was so well taken care of and staff were all very helpful. Breakfast was fabulous and the fitness club was well equipped.
---
I would say the staff performance is one of the BEST among all the hotels I have ever stayed, it topped the Japan's service even! The staff were so welcoming and helpful that it made our stay in the hazy Beijing a great one!! LOVE IT!! Although the location is a little further from downtown, but it's actually walkable distance to 798 art zone. so it's good enough for m...
---
It was my first trip to Beijing and my first Hyatt experience and it was the worst. From the first moment of checking in, the front desk receptionist's service and attitude towards me was unpleasant. She had said that my payment via agoda had not been processed, (despite my showing her the payment receipt several times) and therefore, made me pay again at the front des...
---
In and around Wangjing Science Park & 798 Art Zone
---
More about Wangjing Science Park & 798 Art Zone
Wangjing Science Park & 798 Art Zone supplies the perfect mix of tranquility and entertainment in the exciting city of Beijing. With a wide number of attractions to discover, this sought-after part of town will not cease to amaze you. An undeniably popular travel destination, Wangjing Science Park & 798 Art Zone offers a memorable escape with its famous sites and fine dining.

For the best accommodations in town and the lowest prices to match, look no further than Agoda.com. With a wide range of hotels, including Jinjiang Inn Beijing Jiuxianqiao and Lido Apartment, finding the right place for a perfect stay is easy. Find the best bargains on hotels in Wangjing Science Park & 798 Art Zone by inputting your dates of stay in the search box.