11 best hotels near Mutianyu Great Wall
Our top picks
Lowest price first
Nearest to
Best reviewed
Featured Hotels
---
I will definitely return to this hotel. It's in the most perfect location and you can see the Great Wall from your room if you book a room with a GW view, the bed is very comfortable, restaurant food is delicious, and the foot & body massages at the spa were some of our best ever. The only downside is the bathroom toilet lacks a door, so it can make it a bit awkward, a...
---
The hotel was definitely designed to look at instead of use. The interior spaces are vast, bland and poorly planed. One example is the "beer garden" which has a view of a blank wall, pedestrian ramp and internal service road. As an architect myself, I found this hotel to be underwhelming and bland. The hotel should have been sensitively desisigned into the landscape ...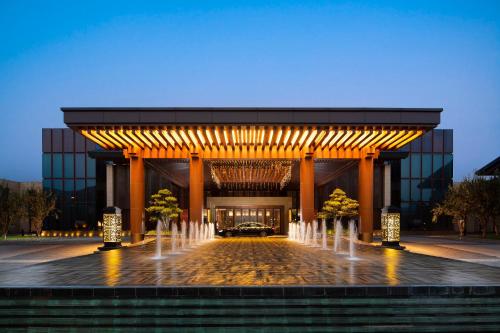 ---
Wonderful, except the curtain for the transparent from outside garden bathroom is too thin and transparent so there was no feeling of security when taking a bath. Ended up bathing with lights turned off!
---
Love our 2 nights stay there. Explore many good restaurants nearby as we visit the MuTianYu Great Wall. Easily accessible by bus (916), MRT stations and taxi. The hotel is clean and comfortable.
---
Difficulty communicating with staff and hotel driver.
---
In and around Mutianyu Great Wall
---
More about Mutianyu Great Wall
Discover the Fun Facts About Mutianyu Great Wall in Beijing, China
Mutianyu Great Wall is one of the most popular sections of the Great Wall of China, located in Huairou District, about 70 kilometers northeast of Beijing. This section of the Great Wall was originally built in the Northern Qi Dynasty (550-557) and was restored during the Ming Dynasty (1368-1644). It is known for its unique features like the watchtowers, crenels, and walls that are built at varying angles. The wall is also surrounded by lush greenery, making it a perfect destination for nature lovers. Did you know that the Mutianyu Great Wall was used as a filming location for the popular TV series "Amazing Race China" in 2014?
Reasons Why You Should Visit Mutianyu Great Wall
If you're planning a trip to Beijing, visiting Mutianyu Great Wall should be on your itinerary. The wall is not only a historical landmark but also a natural wonder, surrounded by beautiful scenery. One of the reasons why you should visit Mutianyu Great Wall is that it is less crowded than other sections of the Great Wall like Badaling, making it easier to explore and take photos without the crowds. You can also take a cable car or chairlift to the top of the wall, which is a thrilling experience in itself. Once you reach the top, you'll be rewarded with breathtaking views of the surrounding mountains and countryside.
How to Go to Mutianyu Great Wall: A Comprehensive Guide
Getting to Mutianyu Great Wall is easy, and there are several options to choose from. If you're staying in Beijing, you can take a bus or taxi to the wall. Buses run from Dongzhimen Bus Station to Huairou District, and from there, you can take a shuttle bus or taxi to the wall. Alternatively, you can hire a private car or book a tour that includes transportation to and from the wall. If you're feeling adventurous, you can also hike to Mutianyu Great Wall from Jiankou or Gubeikou, which are two nearby sections of the wall.
Fun Things to Do Near Mutianyu Great Wall
There are several fun things to do near Mutianyu Great Wall that you shouldn't miss. One of the most popular activities is visiting the nearby Mutianyu Village, where you can explore the local culture, taste traditional foods, and buy souvenirs. You can also take a scenic drive to the nearby Hongluo Temple, a beautiful Buddhist temple surrounded by mountains and forests. If you're feeling adventurous, you can go ziplining, bungee jumping, or paragliding at the nearby Gubei Water Town, a picturesque ancient town that has been restored to its former glory.
Why Book a Hotel Near Mutianyu Great Wall with Agoda.com
If you're planning to visit Mutianyu Great Wall, it's a good idea to book a hotel nearby so that you can explore the wall at your own pace. Agoda.com offers a wide range of hotels near Mutianyu Great Wall, from budget-friendly guesthouses to luxury resorts. By booking with Agoda.com, you can enjoy hassle-free booking, secure payment, and 24/7 customer support. You can also take advantage of Agoda.com's exclusive deals and discounts to save money on your stay.
The Best Season to Visit Mutianyu Great Wall
The best season to visit Mutianyu Great Wall is from March to November, when the weather is mild and the scenery is at its best. During this time, you can enjoy clear blue skies, lush greenery, and comfortable temperatures. The peak season is from April to October, when the weather is warm and sunny, but the crowds can be overwhelming. If you prefer to avoid the crowds, you can visit in the off-season from December to February, but be prepared for cold temperatures and occasional snow.
Tips for Travelers Visiting Mutianyu Great Wall
If you're planning to visit Mutianyu Great Wall, here are some tips to help you make the most of your trip. First, wear comfortable shoes and clothing, as you'll be doing a lot of walking and climbing. Second, bring plenty of water and snacks, as there are limited options for food and drinks on the wall. Third, bring sunscreen and a hat, as the sun can be strong, especially during the summer months. Fourth, visit early in the morning or late in the afternoon to avoid the crowds. Finally, be respectful of the wall and its history, and don't damage or remove any bricks or stones.
Where to Stay Near Mutianyu Great Wall: Top Accommodations
If you're looking for a place to stay near Mutianyu Great Wall, there are several top accommodations to choose from. The Brickyard Retreat at Mutianyu Great Wall is a luxurious hotel that offers stunning views of the wall and the surrounding countryside. The Sunrise Kempinski Hotel Beijing is another great option, located just a short drive from Mutianyu Great Wall and offering a wide range of amenities and services. For a more budget-friendly option, check out Xiaoman Guesthouse or CMYK Stoneyards by the Great Wall, both of which offer comfortable rooms and a cozy atmosphere. Yanlaixing Guesthouse is another affordable option that offers clean rooms and friendly service.
What to Eat Near Mutianyu Great Wall: A Foodie's Guide
If you're a foodie, you'll love the local cuisine near Mutianyu Great Wall. One of the must-try dishes is the roast duck, a Beijing specialty that is crispy on the outside and tender on the inside. You can also try other local dishes like jianbing, a savory crepe filled with eggs, vegetables, and meat, or zhajiangmian, a noodle dish with a savory soybean paste sauce. For a sweet treat, try the jujube cake, a dessert made with dates and glutinous rice flour. There are also several restaurants and food stalls near Mutianyu Great Wall that offer a variety of Chinese and international cuisines.
How to Travel Around Mutianyu Great Wall
Once you arrive at Mutianyu Great Wall, you can explore the wall on foot, or take a cable car or chairlift to the top. There is also a toboggan ride that takes you down the wall, which is a fun and thrilling experience. If you're visiting other sections of the wall, you can hire a private car or take a bus or train to get around. It's also a good idea to bring a map or a guidebook to help you navigate the wall and its surrounding areas.